This is Wendi on Cheyenne. Cheyenne was killed in tragic accident not long after this picture was taken. She is very much missed and was chosen for the reader's profile as a memorial to her and to the young lady who loves her.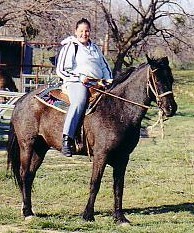 Wendi loves horses and loves to ride. This picture was taken on the Ft. Griffin Trail Ride (that's in Texas), a two-day overnight ride that presents different and interesting challenges each year. Wendi is experienced at camping with people and horses. And with a smile like that, she has to be fun to be around!
~~~~~~~~~~~~~~~~~~~~~~~~
Wild Horses

Wild Horses of the Western United States
This article might be a little controversial, but it is information that needs to be considered. Please read with an open mind. It's the only way we can help.
The United States Government will spend almost $30,000,000 to provide for and protect the estimated 50,000 wild horses in the Western United States. A large portion of this money will go to finance the Adopt-A-Horse program, where horses are removed from overstocked rangelands through private adoption. Also financed are...
Articles
1. Cribbing-Part I Causes
2. Never Walk Behind A Horse
3. What is Coggin's Disease?
Horse Color Series
4. Name That Color: Sorrel vs. Chestnut
5. Duns, Grullas, Buckskins
*****FEATURED WEBSITE*****

Our featured website this month is The LIFE Foundation. This site is a wild and abused horse rescue site that offers a world of information on wild horses and burros, as well as very sound counsel on adopting and caring for horses. Due to the untimely death of its founder, this site is no longer active, but the information remains in tribute. It is well worth visiting.
Contest Results and Winning Stories!
In this Newsletter:

News From the Horse Barn
Readers Profile
Articles
Tidbit of Horse Wisdom
Subscriber Contribution
For Kids Who Love Horses
Featured Website
New Feature--Questions and Answers

Tell a friend about us with Pass-It-On!