A Horse For You to Color
Right click on horse,
click on "save picture as."
Save to your computer,
print out, color beautifully.
Picture provided by Virtual Horse Graphics
~~~~~~~~~~~~~~~~~~~~~~~~~

How Much Do You Know?
Can you answer these horse questions?

1. What is a new born baby horse called?
2. Where is a horse's poll?
3. What is your favorite horse color?


For the answers click "contact me."
Get published!! Send me your original drawings, pictures, stories, poems. Want to see your work in this newsletter? E-mail it to me or mail it to Learn All About Horses, 2444 CR 225, Breckenridge, TX 76424.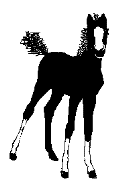 Enjoy this Really Cool Clip Art!